---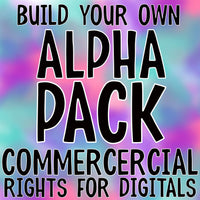 This listing is for Commercial License to sell Finished Digital Designs with the Alpha Packs.
This license is meant to be purchased in conjunction with files or images themselves. There is no artwork that comes with this commercial license add-on. It merely extends the usage rights of artwork purchased separately. 

The commercial license will extend what is allowed with your purchase.


WITH THIS LICENSE YOU MAY:
- Sell FINISHED Digital Designs with any and all Alpha Packs created and sold by Sissy's Doodles LLC.
- You must change the alpha in order to sell. You may not just sell the outline.


You MAY NOT
1. Alter the design and claim it as your own.
2. Gift, share or sell the digital file. Ever.
3. Upload to any sharing site.
4. Copy or create items that look very similar to this design in order to get around these policies.
5. Use the design in logo design, third-party printing, or stand-alone prints.


Failure to purchase this license before selling may result in royalty fees of any transfers sold. Failing to purchase this license may also result in the revocation of all commercial rights to any previously purchased designs without a refund.

By purchasing this license, you are also allowing any employees of Sissy's Doodles LLC to join any group, website, or other social media pages at their discretion. Removal of any employees could also result in the loss of commercial rights without a refund.