---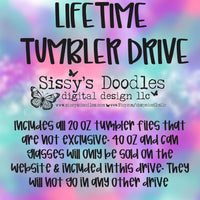 Access to the Digital Google Drive of Sissy's Doodles has already been made & will make 

- Currently holds 2020, 2021, 2022 and 2023 tumbler designs 
-40 oz tumblers and 16 oz can glasses will only be sold on the website and included in this drive- they are NOT in the regular lifetime. 
- Exclusive designs will not be added to the drive.
- 20 oz and 30 oz tumbler designs will be included in this drive, regular lifetimes and exclusive lifetime (if applicable) 
- You may NOT resell ANY of our digital designs as digitals.
- IF YOU PLAN ON SELLING SUBLIMATION OR ANY OTHER TRANSFERS, YOU NEED TO PURCHASE THE COMMERCIAL LICENSE! 
- If you have any questions you may email me at sissysdoodles@gmail.com